ORDER NOW*****ORDER NOW*****ORDER NOW
During recent weeks there has been a lot of discussion around what will be the new normal. Satelliet Group have been working hard on a range to help business get back to work. Our design team have work tirelessly and developed a cost effective easy to use range to assist with social distancing and provide a level of safety and comfort for employees and guests.
We have had so much interest in the In Between Range, the first production run has completely sold out and our next shipment is due at the end of May 2020.
InBetween panels are supplied, ready for assembly with 4 in a pack and are shipped straight to your door.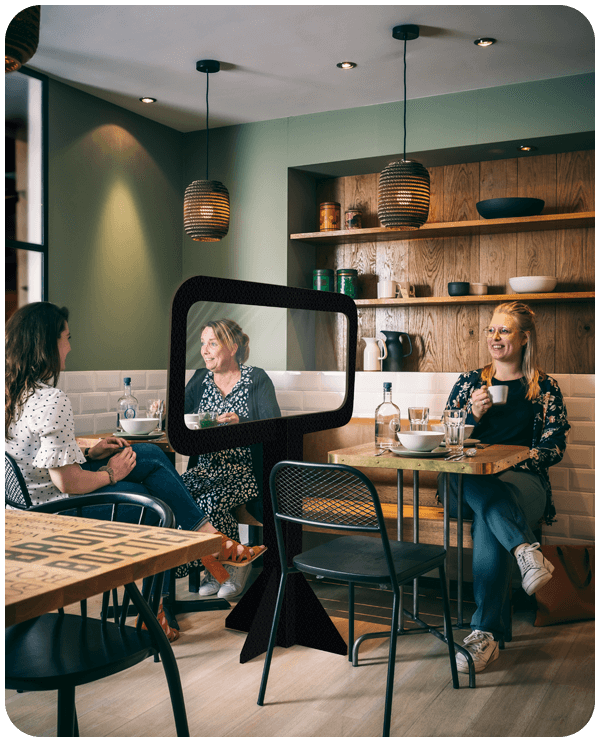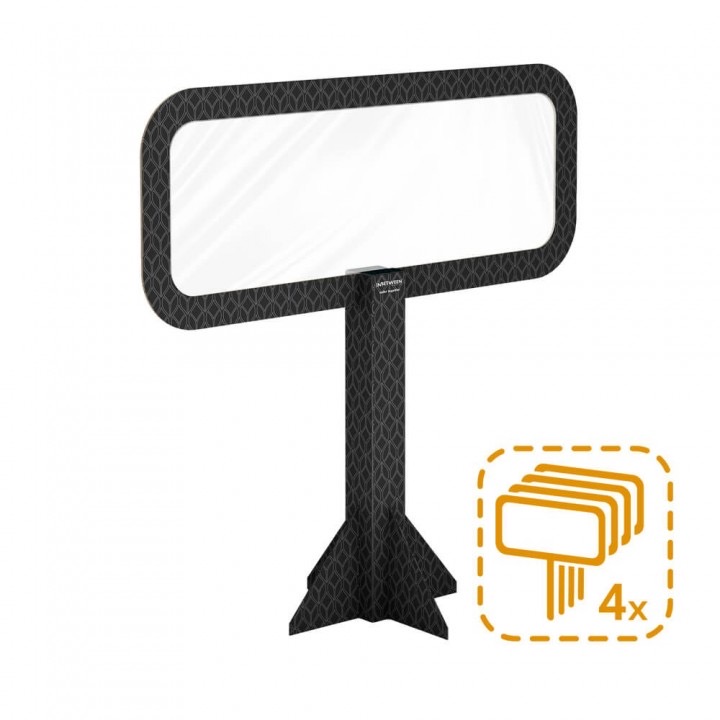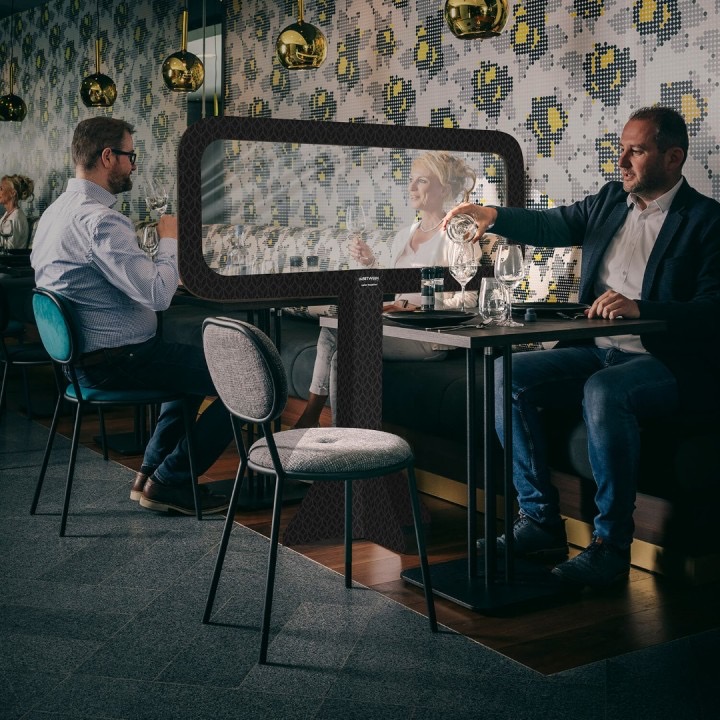 The InBetween Column is a movable partition made of FSC cardboard and recyclable plastic and offers your guests, your team and yourself extra security and protection by placing it between the tables.
This screen is characterised by its practical design. It is lightweight, and can be assembled in less than 5 minutes. This version comes in a set of 4 pieces, with 4 columns for freestanding installation and 4 table stands. No need for fixings on the table top.
It has a transparent rectangular window with a black frame, which can be placed on a column or on a table stand.
Set of 4 pieces
Extra protection
Easy to apply in existing space and layout
Lightweight
Flexible in setup
Low investment, optimal return
Ready for use within 5 minutes
No fixing on the table top
Fast and free* delivery
Fully recyclable
Including column and table stand
DIMENSIONS
Height (total): 138 cm
Width (total): 140 cm
Height screen: 57 cm
Column: 11.5 x 11.5 cm
Base: 55.5 x 55.5 cm
FAQ | Q&A
Question: Have the InBetween solutions been medically tested and or discussed with the RIVM?
Answer: No, this is an initiative by Satelliet Meubelen in The Netherlands  we do not presume to have a solution against the spread of COVID-19. With these screens you offer your guests and employees more security and a feeling of safety.
Question: Is the application of the InBetween products intended for keeping a distance of each countries social distancing regulation?
Answer: Creating social distancing  is not the goal of the InBetween products; the goal is shielding. In order to observe the social distancing regulations, there may be a need to change the layout of your space. We can also help you with this:
A) Create a new layout drawing in which we process the social distancing allowance in the space. As a result, you may have to store your excess furniture and your venue may look more spacious.
B) You keep your layout the same and use fewer tables; this preserves the atmosphere. For the tables that are not in use, we provide clear but friendly signs that you can placed on these tables to inform your guests.
Question: How sturdy is the InBetween Indoor Column, does it not fall over quickly?
Answer: The InBetween Indoor Column has a sturdy cross base that makes it stable on the ground. The complete unit is not heavy in weight, so it can fall over if knocked, however due to the construction it will not injure anyone or damage anything.
Question: Is the InBetween Indoor Column easy to move?
Answer: Yes, because it is lightweight and freestanding, the InBetween Indoor Column is easy to move.
Question: If I don't have space on the floor, can I fix it differently?
Answer: You receive an extra table support per InBetween Indoor Column. This means that the InBetween Indoor Column can also be placed separately on tables without having to be mounted on the table top.
Question: How do I clean the InBetween Indoor Column?
Answer: The InBetween Indoor Column is made of printed and finished cardboard with a plastic window. Clean the cardboard parts with a slightly damp cloth without cleaning agents. You can clean the plastic window with sanitized wipes. Pay attention! Never spray moisture or detergent directly on the product.
Question: Can I personalize the InBetween Indoor Column with, for example, the logo of my company?
Answer: Yes, that is possible with an order volume of at least 3,000 pieces. Please contact us at info@satelliet.co.uk.
Question: Can I try an InBetween Indoor Column before making a decision?
Answer: We regret that this is not possible. The minimum purchase is four pieces because of the packaging of the product.
Question: How sustainable are the InBetween Indoor Column elements?
Answer: The InBetween is made of FSC cardboard and plastic. Both the cardboard and the plastic window are 100% recyclable. You can send to recycling for cardboard and paper whilst the plastic window goes in the plastic recycling.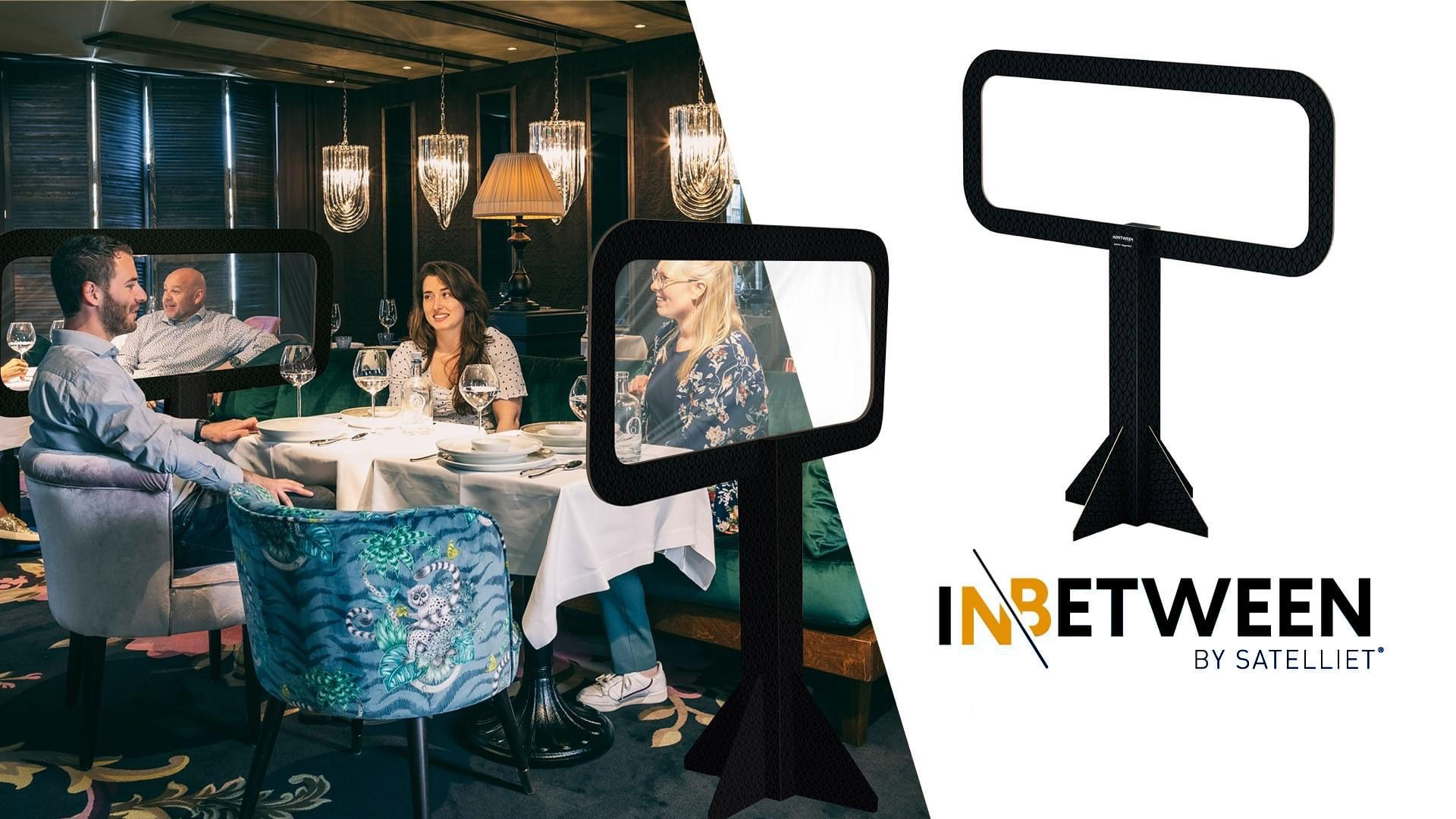 Online ordering web site www.inbetweenbysatelliet.co.uk if you need any more information in the meantime contact us at info@satelliet.co.uk