We have highlighted the top 3 trends we are seeing across the interior design industry for 2021, Once hospitality is fully operational the desire for this sector is going to be massive and what better time to prepare your venue for the future ahead and see how our contract furniture ranges can complement your chosen trend(s).
1.Sustainability –
The environment is a real concern all over the world and we are now seeing more and more companies and designers focusing on sustainability, in 2021 you can expect to see more recycled and recyclable materials being chosen.
It is important that we make the right choices today for the future generations to come. Within our contract furniture range, you can find many collections which are made from recycled materials, Resysta and reclaimed FSC wood, sustainable metals and much more.  Please enquire for more details at info@satelliet.co.uk.
Click Here to check out our sustainability page for full details on the sustainable materials we use!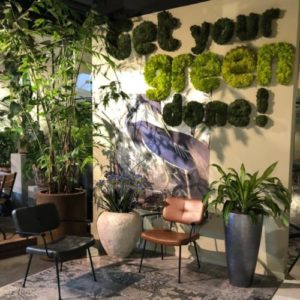 ---
2.Pandemic Influenced
The Pandemic effect can already be seen across the industry and is making an impact on future design trends. We are hearing and seeing more demand for anti-microbial fabrics, hardwearing surfaces, and secure screen solutions.
At Satelliet we have produced secure screen solutions called Inbetween, these screens are produced to give you, your team and your clients comfort and protection throughout this pandemic, you can find full details on our Inbetween website Click Here.  Designers are also creating permanent solutions using dividing walls/shelving units to separate out seating areas in their designs for future venues, these areas are intended to give your clients not only protection but also privacy and comfort.
The demand for anti-microbial fabric is on the rise but what is it and how can it help you. Anti-microbial fabrics can be made of a variety of textiles, including but not limited to polyester, polyester-vinyl composites, vinyl, and even acrylics. The primary function of antimicrobial's is to help prevent bacteria, viruses, and other microorganisms from attaching to the fabric surface thus making them a safer touch point for your clients.
Hardwearing surfaces such as copper, zinc, brass, granite, and quartz are being offered to not only help now avoid the spread of the COVID-19 virus with their antimicrobial properties, but they are also easier to clean without damaging your furnishings.
For more information on permanent solutions, hardwearing surface and anti-microbial fabrics please enquire at info@satelliet.co.uk where our sales team can discuss your requirements and offer solutions within our contract furniture range.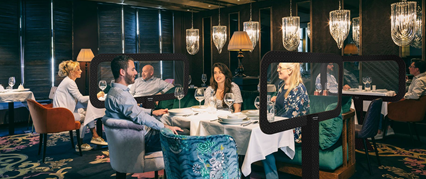 ---
3.Biophilic Design
Biophilic design is being seen more and more in the hospitality industry and is a big design trend not only for 2021 but for the future. Biophilic design essentially means interior design which connects people with nature by increasing connectivity to the natural environment through use of direct and indirect nature.  The design is said to enhance your general well being and create a positive and calming mood.
The Interior design industry achieve this by using, natural materials such as wood or wickerwork which bring depth and character to any space or venue, potted plants and living walls which give life and tactile richness to a space, cleaning indoor air and restoring a healthy connection with nature. In nature organic and flowy shapes are more frequent than straight lines and the use of circular or curved contract furniture can help you achieve this atmosphere. Floral upholstery can enhance your biophilic interior and provide a visual connection to nature.
Please enquire for more details about how we can help you with our contract furniture range and fabric library to achieve your biophilic theme – info@satelliet.co.uk